Itinerary:
Day 1:
Arrival in Anchorage. Transfer to the hotel (20min). Overnight at hotel.
Day 2:
Purchase products in Anchorage at the supermarket. Transfer to Talkeetna (2.5 hours, 100 km). Night at the lodge TAT (mountain hut type).
Day 3:
Meeting at Rangers morning (obtaining of permits and instructions). Packing things. Depart on a glacier in the afternoon (40 min.). Arrivals to the glacier (2200m). Digging holes for tents. Installation of the camp. Dinner. Overnight in tents.
Day 4:
The yield on the route. The transition from the airport (7200 ft, 2200 m) to Camp 1 "fork" (7800 feet). Installation of the camp. Overnight in tents.
Day 5:
Carrying loads to Camp 2 "Upper Glacier Kahiltna" (9600 ft 2900m). Return to Camp 1.
Day 6:
Go to Camp 3 (11,000 ft 3350m). Usually there is left skis and sleds, as well as of the products on the descent.
Day 7:
Taking zabrosku from Camp 2 and rest in Camp 3.
Day 8:
Zabroska at Windy Corner, considered a key the lower part of the route. The descent to Camp 3 (11 feet). Overnight in camp 3 at 11,000 feet, 3350m.
Day 9:
Moving to BC Jenet Basin or another "Camp Ranger" (14200 ft, 4330m). To be the crossing of the famous Windy Corner. Night Ranger Camp.
Day 10:
Rest and acclimatization at Camp Ranger at 4330m.
Day 11:
Zabroska the ridge to high camp (about 5000m). Railings. Descent to the base camp at 4330m. Overnight in BC at 4330m.
Day 12:
Go to the assault camp (17,200 ft 5240m). Night 5240m.
Day 13:
Rest and acclimatization to the high camp at 5240m. (As the case may climb on that day)
Day 14:
Climbing to the top of Mount McKinley / Denali (6193m). Descend to high camp at 5240m.
Day 15:
Descent to the Camp Ranger (14200 ft, 4330m). Night 4330m.
Day 16:
The descent to camp 3 (11,000 ft 3350m).
Day 17:
Descent (on skis or snowshoes) to the airfield at 7200 ft / 2200m. Night at the airport.
Day 18:
Flight to Talkeetna. Night at the lodge TAT.
Day 19:
Transfer to the airport in Anchorage, flight to Russia.
Day 20:
Reserve day in case of bad weather.
Day 21:
Reserve day in case of bad weather.
Day 22:
Reserve day in case of bad weather.
Day 23:
Reserve day in case of bad weather.
»
For further information see Downloads.
» DOWNLOADS
»

Detailprogramm-Alaska - USA
»

Weather Forecast-Peru
»

Location on Google Maps-Peru
Services included in the prices:
Guide of the "7 Summits club"
Local guides 2 on the US group
Internal and / flights Talkeetna-Kahiltna Glacier (2200m) -Talkitna
Pereezd Anchorage - Talkeetna - Anchorage
Accommodation (double) Hotel (1 night in Anchorage) on arrival
Accommodation in house TAT for climbers (1 night on arrival)
Signing necessary documents to obtain the permit
Consultations route
All public equipment (tent, burners, ropes, public utensils, shovels)
Power on the climbing route (on Kahiltna glacier )
Aptechka
Not included:
Airfare and airport taxes to and from Mendoza Regular service bus tickets to and from Mendoza
S / flight Moscow - Anchorage - Moscow (from 1100 USD)
Signing US visa (200 USD)
Alpinistskaya insurance (120 USD)
Personal equipment
Meals in the cities, and additional days in cities
Permit to climb (from 350 in .e.)
Transport
Recommended flight flight "Aeroflot" Moscow-Seattle-Anchorage (arrival day of departure). Moving Anchorage, Talkeetna, Anchorage -. Minivan Flight Talkeetna, Talkeetna Glacier Kahiltna-on small local firms aircraft (plane takes 4-5 people and goods in 50 kg per person) Accommodations
Anchorage accommodation in the hotel 1 night on arrival. In Talkeetna accommodation at the lodge for climbers (Hostel). Food
On the route guides made cooking.
Service staff
Throughout the program group operates an experienced guide from 7 Summits Club. On the route from Talkeetna to the group are also working on the American guides litsenzirovannnoy company (2 persons on a group of 6-8 participants) Health and Insurance
Doctors (volunteers) have Kahiltna Glacier in BC 4300 (Camp Rangers). First aid will be the leader, but it is necessary to take personal medication. Also we recommend that you start taking vitamins for a month before the trip. And even better - get a pre-acclimatization (for example, during the May holidays to go to Elbrus).
Weather
During the day on the glacier about 0 -10-20 night. At the height may fall to -30-35 ° C. The weather is changeable and unstable. Often, because of the weather we have to sit in the camps.
Estimated additional expenses
Food in Anchorage about $ 20-30 per day in Talkeetna powered 10-20 dollars cheaper than a good breakfast in the Road House (less than $ 10 polportsii).
Tour Information:
Season:
June
Difficulty:
6 , medium-difficult (technical 3 + altitudinal 3 )
Dates & Prices:
From / To
16.06. - 08.07.2017

Prices (per person):
* 14 280 USD ( 954 896 rubles ) ✓
Deposit for reservations:
* 3000 USD ( 227,503 RUB ) ✓
Full payment for 180 days if you cancel less than 180 days , no refund! Buy for less program - TODAY !!! On the 1st day of the next month the price will increase. The price is fixed when making payment.
Places:

*Available
Trip-code:
Nummer
►
Duration:
23 days
Participants:
Minimal: 6 Maximal: 9
Country / Location:
Alaska (USA)
Mountain Guide:
Luda Korobeshko and Alexande Abramov 7 Summits Club managers
Other dates / additional info:
contact us!
---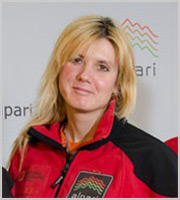 Luda Korobeshko
Expert guide certified 7 Summits Club
Manager-guide of 7 Summits Club for USA
Telephone:
+7 916 390 88 51
E-Mail:
info@7vershin.ru
» Read more...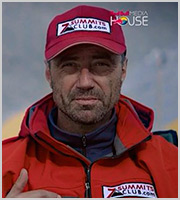 Alexande Abramov
Expert guide certified 7 Summits Club
General-guide of 7 Summits Club for USA
Telephone:
+7 916 390 88 96
E-Mail:
info@7vershin.ru
» Read more...
3% early bird discount when booking 6 months prior to departure 2017
---
Legend Booking-information
EZZ

-

Single room supplement

On this trip, places are still available.

On this trip, only a few places left.

This trip is sold out / closed.

---